3 Risks That Could Sink Your Retirement
According to a recent Gallup poll, 64 percent of Americans say they are concerned about having enough money in retirement. That makes retirement America's number one financial concern for the 15th year in a row. In fact, it's been the top concern every year since Gallup started conducting the study.1
Many Americans assume that the key to a secure retirement is saving and growing a substantial amount of money. Wealth accumulation does play a big role in retirement planning. However, risk management is also an important component. There are a number of sizable risks that could threaten your ability to retire comfortably.
Below are three such risks. If you haven't planned for these risks, now may be the time to do so. If you don't have protection or risk-mitigation strategies in place, these risks could limit your ability to retire on time or live the type of lifestyle you've always imagined for yourself.
Market Declines
Investing in retirement or even in the years just before retiring always presents a difficult challenge. On one hand, you need to continue growing your assets so you can fund your lifestyle and fight inflation. On the other hand, you want to avoid significant declines because you may not have time for your investments to rebound.
One way to protect against this risk is to use tools that offer upside potential but limit downside risk exposure. For example, fixed indexed annuities give you the ability to earn returns based on market performance without experiencing downside market loss.
In a fixed indexed annuity, you earn interest every year. The interest rate is based on the performance of an underlying index, like the S&P 500. If the index performs well, your rate may be higher. If it performs poorly, your rate may be lower. However, these policies always have a guaranteed minimum rate, so you will never lose money even if the index declines in value.
Disability
According to the Council for Disability Awareness, one in four adults will suffer long-term disability in their lifetime.2 Disability can have a substantial impact on one's retirement, especially if it happens in the final years of your career.
If you suffer an injury or illness and are physically unable to work, you may have to stop making contributions to your retirement accounts. You also may have to take withdrawals from your savings to account for your lost income and to pay for your care.
Many people assume that Social Security always covers disability, but that's not the case. Some conditions warrant Social Security disability payments, while others don't. If your claim is denied, it could take years for you to appeal the decision. During that time, you may drain your personal savings.
An alternative is to use disability insurance as a protection tool. You pay premiums today and then receive benefits if you ever become disabled. You can use the benefits to replace your lost wages, pay for care, or for any other financial need you may have.
Long-Term Care
The U.S. Department of Health and Human Services estimates that 70 percent of all 65-year-olds will need long-term care at some point.3 That care can be costly and it may be needed for years. It's also not covered by Medicare, so you may have to pay for it out-of-pocket.
As you might imagine, if you're funding long-term care, you may have limited ability to meet your other financial obligations. Long-term care insurance is one way to manage that risk. You pay premiums today and then the policy covers some or all of your long-term care bills in the future, depending on the terms of your policy.
Most long-term care policies cover in-home care, meaning you don't have to be in a facility to use the protection. Also, some also have hybrid life insurance or annuity benefits, so you can still utilize the policy for other purposes if you never need long-term care.
Do you have protection in place to minimize these risks? If not, let's talk about it. We welcome the opportunity to help you analyze your needs and develop a strategy. Let's connect today.
1http://www.gallup.com/poll/191174/americans-financial-worries-edge-2016.aspx
2http://www.disabilitycanhappen.org/chances_disability/disability_stats.asp
3http://longtermcare.gov/the-basics/who-needs-care/
This information is designed to provide a general overview with regard to the subject matter covered and is not state specific. The authors, publisher and host are not providing legal, accounting or specific advice for your situation. By providing your information, you give consent to be contacted about the possible sale of an insurance or annuity product. This information has been provided by a Licensed Insurance Professional and does not necessarily represent the views of the presenting insurance professional. The statements and opinions expressed are those of the author and are subject to change at any time. All information is believed to be from reliable sources; however, presenting insurance professional makes no representation as to its completeness or accuracy. This material has been prepared for informational and educational purposes only. It is not intended to provide, and should not be relied upon for, accounting, legal, tax or investment advice.
16111 – 2016/9/20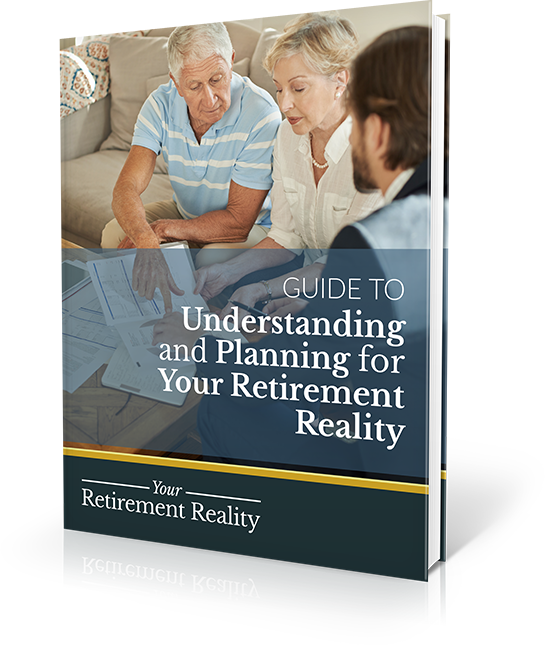 Reality Check: It Might Be Time to Revisit Your Retirement Income Plan
Funding your retirement today has changed dramatically from planning a retirement income a few decades ago. Today's economic circumstances have created a new reality that requires a different approach.
Download Now