4 Signs It's Time to Review Your Life Insurance Coverage
Life insurance. It may not be the most fun topic to think about. After all, it's a product put to use after you pass away. There's nothing pleasant about thinking about one's own demise.
It's a wise idea to regularly review your life insurance to make sure it meets your needs. However, for many people, that doesn't always happen. They may be too busy to review their coverage. Or they may simply forget about it.
The fact is life insurance is too important to ignore, especially if you have loved ones and others who are dependent upon you. Life insurance is an effective tool to help you meet your obligations and protect your loved ones, even if the worst should happen to you.
Even if you don't review your coverage regularly, you should almost certainly do so after a few major life events. Below are four common life events that may trigger a need for additional coverage. If any of these sound familiar, it may be time to have a discussion with your life insurance professional.
1. You became a business owner.
Business ownership can be a rewarding and fulfilling experience. It can also be financially challenging and complicated. Your business may have vendors, employees, suppliers, lenders, partners and more, all of whom rely on you in some manner. Again, just because you die doesn't mean those obligations go away.
Life insurance can provide liquidity to keep the business going in the aftermath of your death. It can be used to pay employees, vendors and others to keep the business alive. If you have partners, they could use a life insurance benefit to buy your share of the business from your family, thus insuring your family gets value for all your hard work.
2. Your family has grown.
This is a common driver of life insurance need. Usually, when your family grows, that means you have one more person in the household who is dependent upon you in some way. If you recently had a child, you probably want to make sure that child has financial resources available should you pass away.
This isn't limited to childbirth, though. For instance, perhaps you entered into a second marriage, creating a blended family. You may now have stepchildren who are just as dependent on you as your biological children. You may feel an obligation to make sure they're protected.
Also, even if you're not the breadwinner, you may still need coverage. If you support the family with things like childcare, cleaning, cooking and more, you are adding value to the household. If you were to pass away, your absence would likely generate substantial costs. Life insurance can protect your family against those expenses.
3. You purchased property.
If you recently purchased property and used a mortgage to do so, life insurance may be an important tool for you. In fact, it might be mandatory. Many lenders require borrowers to show proof of life insurance before the loan is funded.
The reason is simple. Just because you pass away doesn't mean the loan disappears. Someone will be on the hook for the mortgage payments, and it could be your spouse or children. Consider using life insurance to pay off the mortgage if you should pass away.
4. You're supporting or caring for your parents.
Are you caring for aging parents? You're not alone. More and more adults find themselves responsible for their elderly mother or father. In many ways, that makes your parents your dependents.
Consider what might happen to them if you passed away. Would any other family members step up and help? Would they have to move to assisted living? Could they afford to do so? You can use a term life insurance policy as a way to provide a temporary life insurance benefit for your parents in the event you pass away.
Have you been thinking about your life insurance needs and coverage? Contact your insurance professional to help you better protect yourself and your loved ones.
This information is designed to provide a general overview with regard to the subject matter covered and is not state specific. The authors, publisher and host are not providing legal, accounting or specific advice for your situation. By providing your information, you give consent to be contacted about the possible sale of an insurance or annuity product. This information has been provided by a Licensed Insurance Professional and does not necessarily represent the views of the presenting insurance professional. The statements and opinions expressed are those of the author and are subject to change at any time. All information is believed to be from reliable sources; however, presenting insurance professional makes no representation as to its completeness or accuracy. This material has been prepared for informational and educational purposes only. It is not intended to provide, and should not be relied upon for, accounting, legal, tax or investment advice.
15813 – 2016/6/17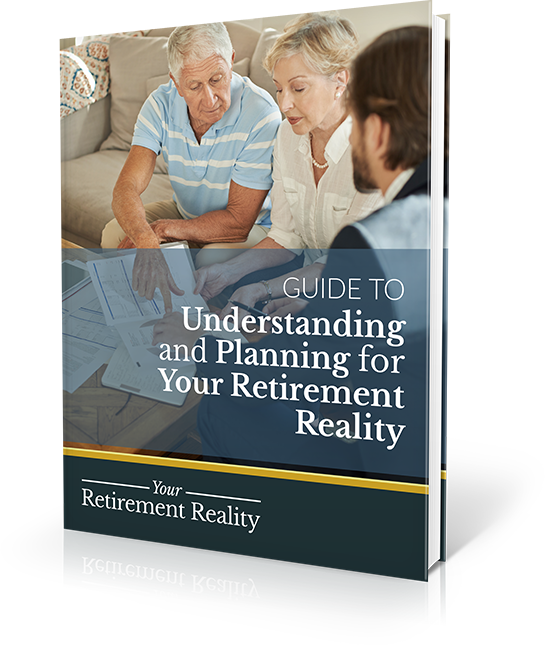 Reality Check: It Might Be Time to Revisit Your Retirement Income Plan
Funding your retirement today has changed dramatically from planning a retirement income a few decades ago. Today's economic circumstances have created a new reality that requires a different approach.
Download Now