Can You Answer These 3 Questions About Your Disability Insurance?
There's a common assumption that disability is only caused by accidents. The truth is that a broad range of issues could prevent you from continuing your career. A nagging injury or chronic pain could become more severe. You could develop a critical illness like cancer or heart disease. You might suffer a devastating injury. If so, you may have to support yourself and your family without the benefit of a paycheck.
Are you currently shopping for disability coverage? Or are you covered by a group or individual policy, but wondering whether the coverage is sufficient? Reassessing your disability risk could be wise. According to the Council for Disability Awareness, the average worker has a 25 percent chance of becoming disabled during their lifetime. The group reports that the average disability claim lasts nearly 33 months.1
Disability insurance can be an effective way to minimize the financial fallout. With long-term disability insurance, you pay premiums today in exchange for a monthly benefit should you ever become physically unable to work. The monthly benefit is often calculated as a percentage of your income.
Many people assume that their group disability coverage offers sufficient protection. Others may feel they need additional coverage but are overwhelmed by the choices. Before you make any decisions, make sure you do your due diligence. Below are a few questions to consider before you buy a disability policy. If you can't answer these questions, you may need to do a little more research.
What is the elimination period?
Long-term disability policies are designed to protect you from financial risks associated with issues that last many months or even years. They aren't meant to protect against disabilities that may only last a few weeks.
Many policies use something called an elimination period to make a distinction between short-term and long-term disabilities. The elimination period is a designated amount of time you must wait between when you suffer the disability and when benefits begin. It often lasts anywhere from 30 days up to six months or more. When you buy your policy, you may be able to choose your own elimination period. A shorter elimination period will usually lead to higher premiums.
You should be aware of the what the elimination period is. If you suffer a disability, you may have to fund your own expenses during this time. For example, if you suffer a disability and have a three-month elimination period on your insurance policy, you may need to rely on personal savings or even a short-term disability policy to cover that window.
How long can you receive benefits?
When you purchase your policy, you will select a benefit payment period. This is the maximum amount of time you can receive benefits. For example, you might opt for a benefit payment period of three years, five years or more. You could even select a benefit time frame that lasts to age 65. Everything else being equal, a longer benefit payment period will usually result in higher premiums.
Does the policy cover own occupation or any occupation?
Insurance companies have different ways of determining whether a disability is covered under a particular policy. One commonly used method involves assessing what type of occupation you can work after you suffer the disability. Some policies are considered to be "own occupation," while others are known as "any occupation."
In an "any occupation" policy, you must be totally disabled and unable to work any job to receive benefits. As you might imagine, that threshold narrows the list of disabilities that may qualify.
In "own occupation" policies, you simply must be unable to work in your own occupation. For example, if you're a surgeon and injury your hand, you may not be able to continue in your line of work. However, you might be able to work as a hospital administrator or general physician because the hand injury won't be so important in those roles. An "own occupation" policy would potentially still pay you benefits since you had to leave your previous career.
Ready to protect yourself against the risk of disability? Let's talk about it. We can help you analyze your needs and develop a protection strategy. Let's connect soon and start the conversation.
1http://www.disabilitycanhappen.org/chances_disability/disability_stats.asp
Licensed Insurance Professional. This information is designed to provide a general overview with regard to the subject matter covered and is not state specific. The authors, publisher and host are not providing legal, accounting or specific advice for your situation. By providing your information, you give consent to be contacted about the possible sale of an insurance or annuity product. This information has been provided by a Licensed Insurance Professional and does not necessarily represent the views of the presenting insurance professional. The statements and opinions expressed are those of the author and are subject to change at any time. All information is believed to be from reliable sources; however, presenting insurance professional makes no representation as to its completeness or accuracy. This material has been prepared for informational and educational purposes only. It is not intended to provide, and should not be relied upon for, accounting, legal, tax or investment advice.
16604 – 2017/4/25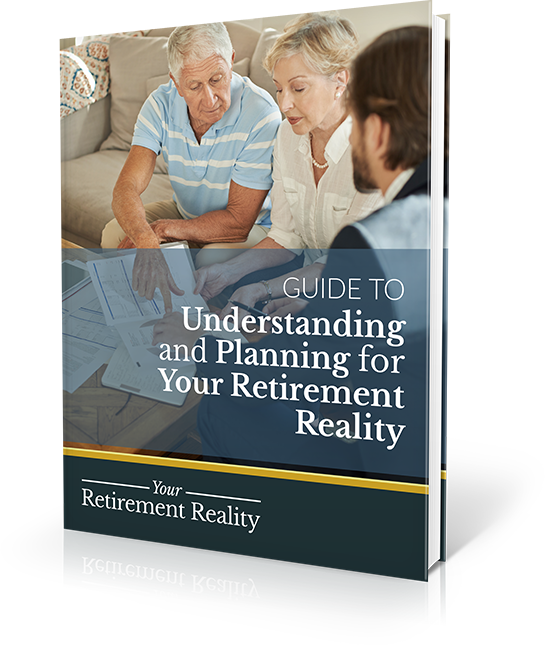 Reality Check: It Might Be Time to Revisit Your Retirement Income Plan
Funding your retirement today has changed dramatically from planning a retirement income a few decades ago. Today's economic circumstances have created a new reality that requires a different approach.
Download Now