Downsizing in Retirement: Should You Rent or Buy?
At some point, nearly every retiree faces the same decision. The kids have long ago moved out. Most of the bedrooms in the house go unused. The yard work and cleaning have become burdensome chores and the utility bills have become a drain on your budget. Is it time to downsize?
If you've already made the decision to downsize, you may be faced with another difficult decision: Should you rent or buy? At first glance, the answer may seem obvious. After all, you've likely been a homeowner for decades. Renting may seem like a step backward.
However, there are very real reasons why renting may be a better option for retirees. Below are a few factors to consider as you make your decision:
Do you want everything that comes along with home ownership?
You are probably well-versed in just how costly it can be to own a home. There's the mortgage and taxes. You may also have HOA fees. And of course, there's the never-ending stream of repairs. One year you need a new roof. The next year it's an air conditioner. The year after that it's cracks in the foundation.
With renting, you avoid most of these issues. Yes, you have a monthly rent payment. That payment, though, usually buys you maintenance from the landlord or management company. If the building needs a new roof, it's the owner's problem, not yours. If you want to avoid the cost and time commitment that come with ownership, renting may be the ideal solution.
Do you want to fix up your home?
Of course, you may be the type of homeowner who enjoys the occasional weekend project or remodel. Maybe you like landscaping, painting, tearing down walls or renovating bathrooms. For you, remodeling and renovating are part of the fun of living in a home. You get to make it your own.
If that's the case, renting would likely be a poor choice. You may be able to make slight changes to the home, such as painting a wall or planting flowers. However, you might also be limited in just how much redecorating you can do.
Do you want to leave an asset for your heirs?
Another motivation may be to leave a house available for your children or other heirs after you pass away. For many families, the home is one of the largest assets in the estate. If it's mortgage-free, your heirs may be able to sell it to generate cash and liquidity.
Obviously, if you rent, you won't be able to leave an asset behind. Is it important for you to leave a house as part of your estate? Or will your heirs receive plenty of other assets?
Do you want to be tied down?
At any age, home ownership is a long-term commitment. That's especially true if you're using a mortgage to fund some or all of the purchase. In most real estate markets, it takes time to build equity and to make the purchase a sound financial decision.
Because of the long-term nature of purchasing, you may want to opt for a rental if there's any chance you may move within several years. For example, you could decide to move to a warmer climate after you retire. What happens if you decide to move back after a few years? Or what if, after getting to know the area, you decide to move to a different part of town?
Renting gives you the flexibility to move when you want, rather than being tied down with a mortgage or an unsellable piece of property. Consider how concrete your plans are and whether you're really ready to commit to a new home.
Do you need liquidity?
The decision about whether to rent or buy may come down to simple dollars and cents. Buying a home can often require a hefty capital commitment. You may wish to buy the home with cash, or you might put down a sizable down payment. You may also want to make upgrades and improvements, and you could have to pay for a portion of closing costs.
If you rent, you will probably have to pay only a modest security deposit when you move in. That could free up your remaining capital for investment, which could help you generate retirement income. You will of course have a monthly rent payment. However, you could also have money available for emergencies, rather than have it tied up in a property.
Not sure which option is right for you? We welcome the opportunity to help you explore your options and make the best possible decision for your needs and goals.
This information is designed to provide a general overview with regard to the subject matter covered and is not state specific. The authors, publisher and host are not providing legal, accounting or specific advice for your situation. By providing your information, you give consent to be contacted about the possible sale of an insurance or annuity product. This information has been provided by a Licensed Insurance Professional and does not necessarily represent the views of the presenting insurance professional. The statements and opinions expressed are those of the author and are subject to change at any time. All information is believed to be from reliable sources; however, presenting insurance professional makes no representation as to its completeness or accuracy. This material has been prepared for informational and educational purposes only. It is not intended to provide, and should not be relied upon for, accounting, legal, tax or investment advice.
15722 – 2016/5/31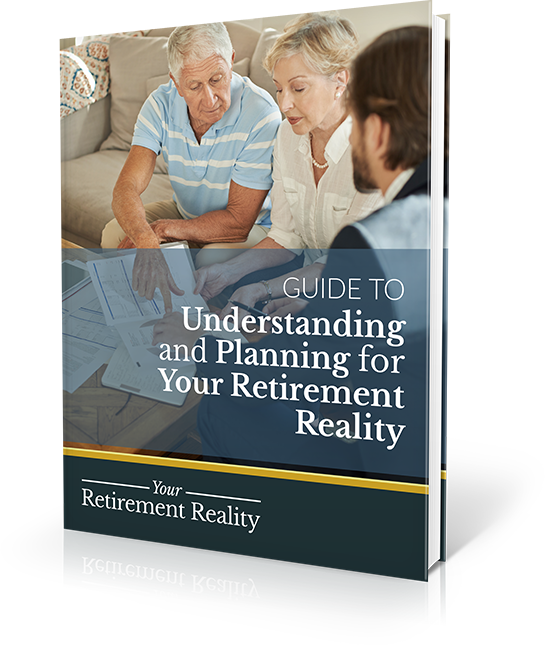 Reality Check: It Might Be Time to Revisit Your Retirement Income Plan
Funding your retirement today has changed dramatically from planning a retirement income a few decades ago. Today's economic circumstances have created a new reality that requires a different approach.
Download Now