Planning Your Retirement Journey Step 1: Choosing Your Mountain
When a reporter asked George Mallory, one of the first mountaineers to attempt Mt. Everest, why he wanted to climb to the highest point in the world, he famously responded: "Because it's there."
You're not George Mallory, but do you ever feel like you're attempting an Everest-like retirement goal? Maybe you're putting a couple of kids through college, recovering from a hit to your retirement savings during the recession, or perhaps finding your way through a second career with a smaller salary than you had before. Mallory's expeditions were rough, to say the least, but he knew what he was getting into and what he was aiming for. Have you ever stopped to consider why you've chosen the mountain you're climbing?
As you may know from my previous posts, I like to talk about the retirement journey in terms of mountain climbing. Your ascent up the mountain is the time you spend accumulating assets in preparation for retirement. The descent represents your strategy for managing the assets you've accumulated so that they'll last for the rest of your life.
If you're climbing toward a goal you set 10 or 20 years ago, or if you're not even sure where you're headed, it's worth reconsidering what mountain you're on and why. Maybe your mountain doesn't need to be as tall or as brag-worthy as the Jones'. It just needs to be right for you.
A couple weeks ago, I shared some examples of retirement archetypes to help you think about how you'll find fulfillment once you retire, and how that may impact what you'll need to afford retirement.
Someone who fits the Life Career retirement archetype, for example, may climb a different mountain than a Legacy Builder or Artist archetype. Each mountain comes with its own challenges, risks, and rewards. There's no one-size-fits-all approach, but there are plenty of examples of people who've chosen a mountain to match their personal aspirations.
Recently I read an article in the Wall Street Journal1 about a 62-year-old woman named Barbara who combined the skills gained from her previous jobs to found a nonprofit organization that provides art supplies to needy public schools. With plans to expand the organization and no intention of slowing down, she's a classic example of the Life Career archetype. People who fit this archetype typically continue to receive work income, which may allow them delay receiving social security benefits until age 70 to receive the maximum benefit.
The mountain Barbara chose to climb is quite different than David's. David, also 62, chose to pursue his love of photography after leaving his job in the medical field.1 While he enrolled in a yearlong digital photography program, he relied on a small pension and personal investments to pay the bills.1
Although Barbara and David are relatively young for retirement, they each chose a mountain that aligned with their life goals and passions and are finding a path to make their dreams a reality.
So let me ask you this: If money was no object, what would you choose to do in retirement?
When would you retire?
What passions would you pursue?
What would you hope to accomplish?
The practical voice in your head might be saying, "I've got to have more money to do all the things I want to do!" But I'm asking you to set aside the financial factor for a moment. Why? Because it will help you avoid making assumptions that limit your possibilities. When you step back and identify your aspirations without regard to money, you'll look at your retirement options through a different lens. You may begin to see where there are variables you can adjust or alternate paths to take that you had never considered before.
I encourage you to spend this week thinking deeply about what mountain you're climbing. What retirement journey will you find most fulfilling? What view do you want to see from the top? In my next post, we'll talk about how to get up and down the mountain you've chosen, what your path might look like and the supplies you may need along the way. So stay tuned!
Your Retirement Reality Sherpa
1. Essick, Kristi. "Second Acts." Wall Street Journal. May 9, 2011. http://www.wsj.com/articles/SB10001424052748704587004576244871391152048.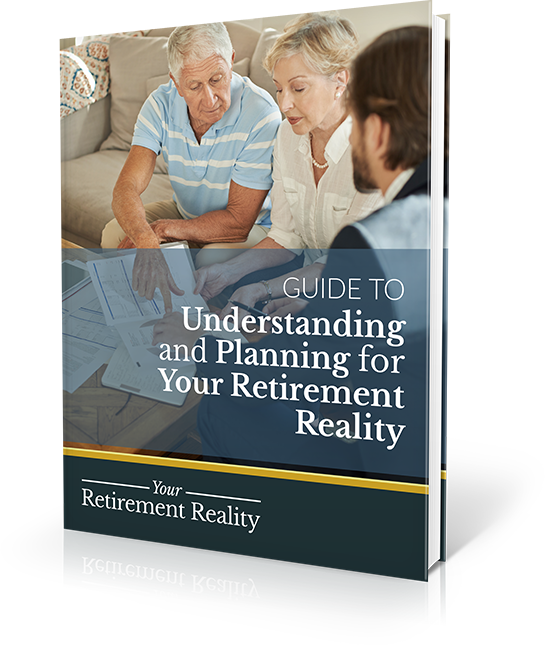 Reality Check: It Might Be Time to Revisit Your Retirement Income Plan
Funding your retirement today has changed dramatically from planning a retirement income a few decades ago. Today's economic circumstances have created a new reality that requires a different approach.
Download Now