When to Review Life Insurance: 5 Big Life Changes
Life can change quickly. You can switch jobs or careers. You might get married or start a family. You may even start a business, or take over care for a parent or other loved one. When these life events happen, they may also impact your vulnerability to risk, and they may signal a need to increase your life insurance coverage.
Below are five major life events that may increase your need for life insurance. If any of these sound familiar, you may want to meet with your financial professional to review your coverage.
Buying a home.
When you purchase a home, life insurance coverage isn't just a suggestion. In some cases, it may be mandatory. Your mortgage is a substantial debt obligation. Your lender will want to have confidence that the mortgage will be paid even if you pass away.
Even if your lender doesn't require coverage, you still may want to consider additional life insurance protection. Without coverage, your loved ones will be left to cover the mortgage. They may be able to sell the home, but they will have to cover the monthly payment until the sale closes. It's also possible that the sale price may not cover the balance of the mortgage. Life insurance can protect your family from financial hardship due to the mortgage balance.
The good news is that you only need coverage to cover the duration of the loan. For example, if you have a 30-year mortgage, you may be able to get a 30-year life insurance policy. Term policies are often less expensive than permanent policies, and once the term ends, the premium payments and death benefit end as well.
Thinking of buying a new home? Talk to your financial professional about how it will impact your life insurance needs.
Starting a business.
Starting your own business can be a fulfilling and rewarding experience. However, it can also complicate your financial situation. You may have a number of obligations associated with the business. Perhaps you have outstanding business loans or a line of credit. Maybe you have long-term obligations to vendors.
If you pass away, how would your family cover those obligations? Would they be able to step in and run the business?
Life insurance can provide your beneficiaries with the cash they need to cover any short or long-term business obligations. They can also use the death benefit to hire a skilled consultant to help them run the business. Either way, life insurance can help your family keep the business running after you pass away.
Having a child.
Becoming a parent changes your life in many ways, but it can also have a significant impact on your retirement income plan. When you have a child, you're now financially responsible for another person's well-being. That responsibility doesn't end when you pass away.
Think about your family and how dependent they are on your income. Would they be able to support themselves? What would your child's future look like without your financial support?
Also, you may need life insurance if you don't work outside the home. If you're a stay-at-home parent, you provide valuable support even if you're not paid for it. If you weren't there to care for your child, your spouse or partner would likely need to pay for daycare services. They also may need to hire someone to help around the house with cooking and cleaning as well. Life insurance can help cover those expenses.
Providing care for a loved one.
Children aren't the only dependents that might benefit if you have life insurance coverage. Do you also care for a grown loved one, such as an elderly parent or handicapped sibling?
If so, consider what may happen if you're no longer around to provide care. Would your loved one need to hire an in-home care provider? Would they need to move into a nursing facility? Life insurance could help solve those financial challenges.
If the ongoing care isn't expected to be permanent, you could get a short term policy that may have affordable premiums. Regardless, you should consider reviewing your life insurance policy to make sure that your parent is cared for in the event of your passing.
Earning a substantial pay raise.
Life insurance is often used as an income replacement tool. Your ability to work and generate income may be your most valuable asset. Life insurance can serve as a protection tool for your family should they lose your income.
If you experience a substantial increase in income, perhaps through a raise or promotion, it may be necessary to purchase additional life insurance. This is especially true if your family's standard of living also elevates due to your increased income. Life insurance can help your family continue to support that standard of living.
Do any of these life changes sound familiar? If so, it may be time for you to review your life insurance protection. Contact your financial professional to discuss your coverage and explore options.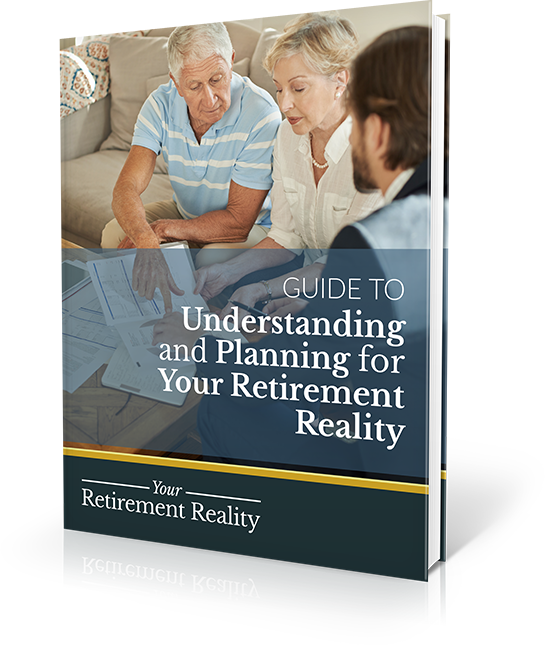 Reality Check: It Might Be Time to Revisit Your Retirement Income Plan
Funding your retirement today has changed dramatically from planning a retirement income a few decades ago. Today's economic circumstances have created a new reality that requires a different approach.
Download Now